Maps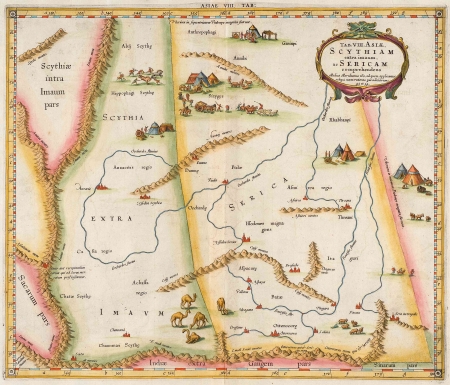 Artist / Author / Cartographer:
Mercator, Gerard
Title:
Asia - Tab. VIII Asiae. Scythiam extra imaum ac Sericam comprehendens
Date:
c.1695
Medium:
copper engraving, later colour
Size:
34.2 x 40.5 cms
Description:
A decorative map of Central Asia showing part of the Old Silk Route. The area covered is from East of the Caspian Sea across Central Asia to China. The map is based on the geography of Ptolemy and is embellished with camels, horses and other animals, people, yurts, a hunting scene, mountain ranges, rivers and cities.
From Mercator's "Ptolemy Geographia" edition of 1695 which was issued with 28 maps. The copper plates had been re-worked and new vignettes and titles replaced the old ones. Most of the new plates were embellished with animals and figures which make the maps very decorative and attractive.
References:
Koeman Me 5
Item Code:
MA6322
attachment: