Maps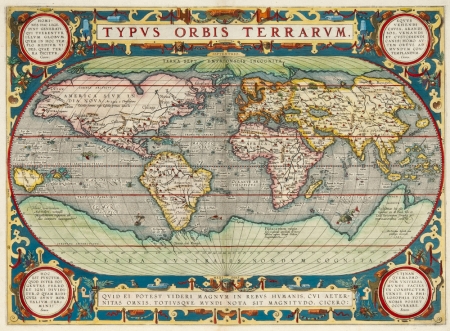 Artist / Author / Cartographer:
ORTELIUS, ABRAHAM
Title:
World -Typus Orbis Terrarvm
Date:
c1587
Medium:
copper engraving, later colour
Size:
33.5 x 49.8 cms
Description:
Typus orbis terrarum. This world map specifically engraved for the atlas, Theatrum Orbis Terrarum. The engraving was done in Antwerp and the map published by Plantjin, 1587 [1570] . This is the third state of the plate according to Van den Broek. The hump in South America has changed from the first state. The clouds in the borders of the first two states have been replaced with four roundels and strapwork.
The Jesuit Matteo Ricci spent some time in Macau before going to Peking. He produced a world map for the Emperor of China based on the Typus Orbis Terrarum which was based on the world map of 1569 by Mercator.
Reference: Shirley, Rodney The Mapping the World,1993. Entry 158.
References:
Item Code:
MA6852
attachment: