Maps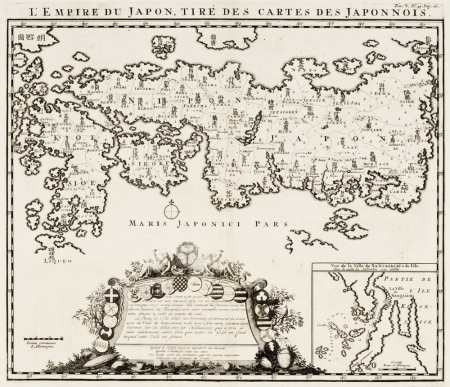 Artist / Author / Cartographer:
Chatelain, Henri Abraham
Title:
Japan - L'Empire du Japon
Date:
c.1719
Medium:
copper engraving
Size:
36.5 x 44 cm
Description:
L´Empire du Japon, tire des cartes de Japonnois.

From Chatelain´s "Altas Historique". Arguably one of the finest 18th century engraved map of the area, with the name of the provinces in Japanese. The map is based on Reland´s map of 1715 and it is one of the earliest to combine both the Latin names and the Japanese characters. There is an inset map of Nagasaki. A large cartouche with a legend explaining the map and illustrated with the coats of arms of Japanese noble families and allegorical images decorating the borders.

Campbell, 45.
References:
Item Code:
MA6780
attachment: