Maps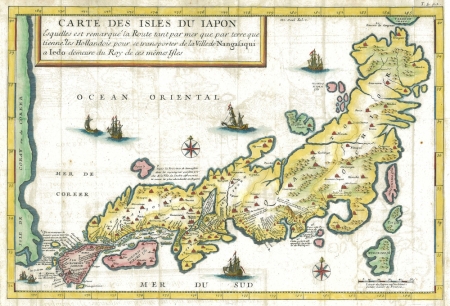 Artist / Author / Cartographer:
Tavernier, Jean-Baptiste [1605 - 1689]
Title:
Japan - Carte Des Isles du Iapon
Date:
1713
Medium:
copper engraving
Size:
20 x 31.5 cm
Description:
Carte Des Isles du Iapon, Esquelles est remarque' la Route tant par mer que par terre que tienne,tles Hollandois pour se transporter de la Ville de Nangasaqui a Iedo demeure du Roy de ces memes Isles.
Rouen, Chez Pierre Ribou.
Jean Baptiste Tavernier (1605 -1689) started his career as a bookseller in Paris. He went on to become a merchant of precious stones, diplomat and traveller. He visited the East Indies. In 1679 he produced a map of Japan (Carte des Isle du Japon) which was compiled from a variety of sources he had collected in the East Indies, especially Batavia.
This Map of The Islands of Japan is based on the larger map of 1679 but is more decorative and is engraved with five extra and different ships.
Not listed in Walter - RARE.
References: Walter, Lutz Japan a Cartographic Vision 1994
References:
Item Code:
MA6860
attachment: