Maps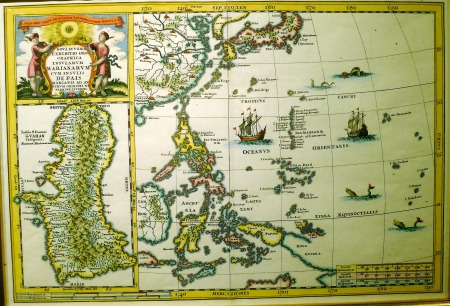 Artist / Author / Cartographer:
Scherer, Heinrich
Title:
Marianas, Philippines and East Asia
Date:
c1703
Medium:
copper engraving, later colour
Size:
23 x 34 cms
Description:
Nova et vera exhibitio geographica Insularum Marianarum cum Insulis de Pais Marianis ad avstrum obiectis nu perrime inventis.
An attractive map of the Philippines and East Asia decorated with galleons at sail and sea monsters. Inset map of Guam to the left.
Heinrich Scherer (1628 - 1704) was a Jesuit, a professor of mathematics at the University of Munich, as well as a geographer and engraver. His Atlas Novus was published in 8 volumes between 1698 and 1710.
References:
Item Code:
MA0513
attachment: