Maps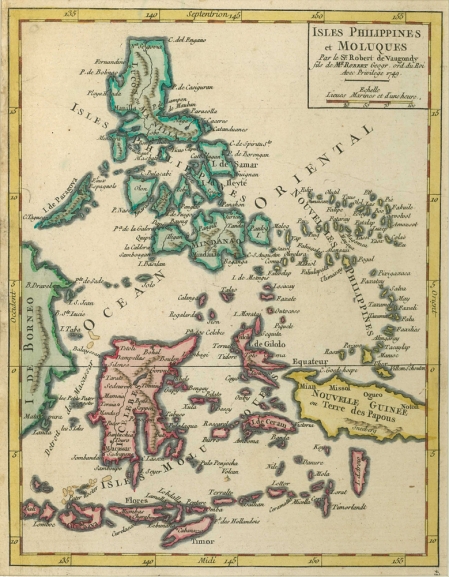 Artist / Author / Cartographer:
de Vaugondy, Robert
Title:
Isles Philippines et Moluques
Date:
1749
Medium:
copper engraving, later colour
Size:
20.6 x 25.8 cm
Description:
An attractive mid 18th century map of the Philippine Islands and the Moluccas.
The Robert de Vaugondy family were French cartographers who were descendents from Nicolas Sanson. Sanson was regarded by many as the founder of the great age of French cartography in the second half of the seventeenth century. Gilles Robert de Vaugondy inherited much of Sanson's cartographic material which he and his son Didier revised and corrected with the addition of many new place names. The elder Robert de Vaugondy, Giles, is also know as Le Sieur or Monsieur Robert.
References
Moreland and Bannister Antique Maps, 2nd ed. 1986
Pedley, Mary Sponberg Bel et Utile. The Work of the Robert de Vaugondy Family of Mapmakers. 1992

References:
Item Code:
MA4097
attachment: