Maps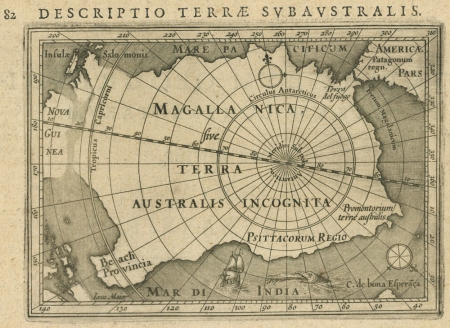 Artist / Author / Cartographer:
Bertius, Petrus
Title:
Descriptio Terrae Subaustralis
Date:
1616
Medium:
copper engraving
Size:
9.5 x 13 cm
Description:
A miniature map of the South Polar region published in Amsterdam in 1616 by Petrus Bertius. This was the earliest printed map to focus on this area.
The map shows an extensive land mass which Bertius calls Magallanica sive Terra Australis Incognita. This includes Terra de fuogo, Promontorium terrae australis, Psittacorum Regio, Beach Provinica and Nova Guinea. Insulae Salomonis are shown.Islands are also shown. Beach is derived from the accounts of Marco Polo.
References:
Item Code:
MA7052
attachment: