Maps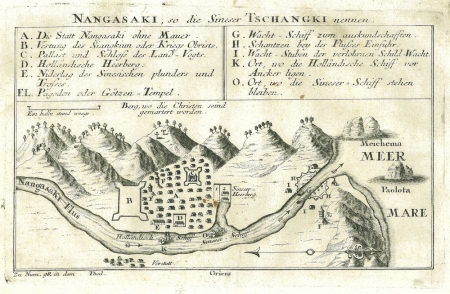 Artist / Author / Cartographer:
Stocklein, Joseph S.J.
Title:
Nangasaki so die Sineser Tschangki nennen
Date:
c1726
Medium:
copper engraving
Size:
13.7 x 23.5 cm
Description:
An unusual map of the Japanese trading port of Nagasaki published in the early eighteenth century. This was the main trading port in Japan for the Dutch East India Company (VOC). It also Shows the place of Martyrdom of the Nagasaki Christians.
Based on a Jesuit map published in Jean de Fontaney's Lettres édificantes et curieuses, published in Paris in 1708. (Walter 95.)
Joseph Stocklein (fl. 1726 - 1748) was a Jesuit who was working in the first half of the eighteenth century.
References:
Item Code:
MA7157
attachment: