Maps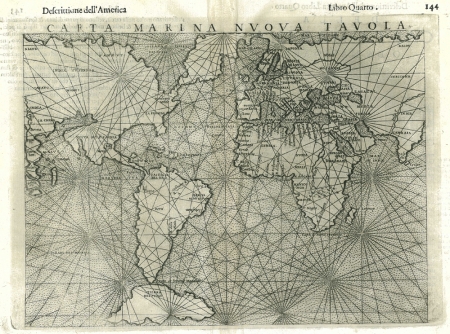 Artist / Author / Cartographer:
Ruscelli, Girolamo
Title:
Carta Marina Nuova Tavola
Date:
c1598
Medium:
copper engraving
Size:
18.5 x 24 cm
Description:
Libro Quarto. page 144.
This Carta Marina Nuova Tavola is from the 1598 edition. Ruscelli's mariner's map was first published in 1561 it was a slightly enlarged version of the map which appeared in Gastaldi's edition of Ptolemy thirteen years earlier. The only change seems to be the omissions of the names Tierra Del Laborador and Tierra Del Bacalaos from the mass of land joining North America to North Europe. The map appeared in 1562, 1564, 1574 and in Giuseppe Rosaccio's expended edition of Girolamo Russelli Geografia in 1598 and 1599.

Reference: Shirley, World, 111.
Note the use of 16 circumferential roses, plotted on the cardinal and intercardinal points each with 32 rhumbs of which, sequentially moving clockwise, four are left out (two on each side), to create the visual image of a hemisphere, centered on the Atlantic, emerging from the two- dimensional image of the map.
References:
Item Code:
MA7039
attachment: