Maps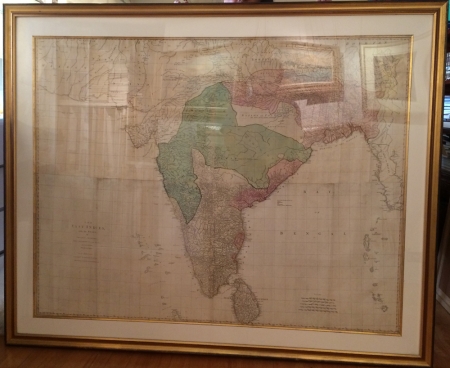 Artist / Author / Cartographer:
Jefferys, Thomas
Title:
India - The East Indies with the Roads
Date:
1768
Medium:
copper engraving, original colour
Size:
105 x 136.5 cm
Description:
The East Indies with the Roads by Thomas Jefferys, Geographer to the King.
An attractive 4 sheet wall chart of India with original hand colour. The map was drawn by the English mapmaker Thomas Jefferys and published by Robert Sayer in London in 1868. The map is dedicated to the Directors of the East India Company.


Jefferys' map of India was the most detailed to date, and of great practical importance during a period of British expansion in the area. Depsite the detail, there are large parts of central India which are 'little known and in a manner independent.'

The longitude grid is based on Europe's oldest known meridian, the island of El Hierro, the south western most of the Canary Islands, spelled Ferro on the map, suggesting a French or Portuguese source.


References:
Item Code:
MA7238
attachment: