Maps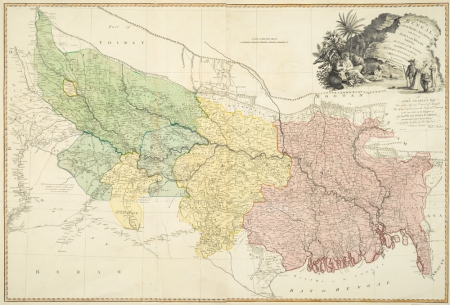 Artist / Author / Cartographer:
Faden, William
Title:
India - A Map of Bengal, Bahar, Oude and Allahabad...
Date:
1786
Medium:
copper engraving, original colour
Size:
74 x 100 cm
Description:
A Map of Bengal, Bahar, Oude and Allahabad with Part of Agra and Delhi exhibiting the course of the Ganges from the Hurdwar to the sea. by James Rennell, F.R.S., late Surveyor General in Bengal. London: Printed for Wm. Faden Geographer to the King. Charing Cross Jan. 1st 1786.
To John Stables Esq. One of the Supreme Council of Bengal. This map engraved from the original drawing on the same scale in the possession of the Hon. East India Company (communicated to him to the late Mr Dury) is respectfully inscribed by his obliged and obedient servant Willm. Faden.
This large scale map covers most of Central Northern and North Eastern India with the red section representing the interests of the British East India Company.
References:
Item Code:
MA6344
attachment: