Maps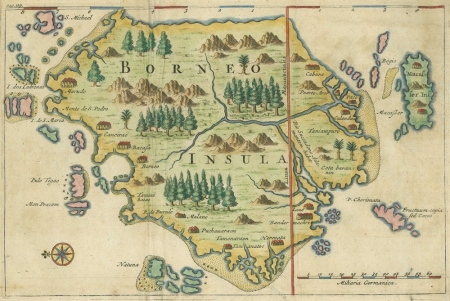 Artist / Author / Cartographer:
Renneville, Rene Augustin Constantin de
Title:
Borneo
Date:
1706
Medium:
copper engraving, later solour
Size:
Description:
A scarce and attractive view of Borneo which was printed at the beginning of the eighteenth century.
From De Renneville's first French edition of "Receuil des Voyages..." , of 1706. Second state of this engraving (the first state being from Commelin 1646).
This was a French translation of Isaac Commelin's earlier Dutch work of 1646. The work was an account of the early Dutch voyages of exploration around the globe with a special focus on Asia and the Far East. By the time of publication of de Renneville's account this view was long out of date. There are three states of this unusual engraving of Macau which appeared in 1646, 1706 and 1725.
The French writer Rene Augustin de Renneville was imprisoned in the Bastille 1702 - 1713. He edited and translated Commelin's work on the early voyages of the Dutch East India Company. Isaak Commelin's "Begin ende voortgangh ..." was published in Amsterdam in 1646. The book described early voyages by the Dutch East India Company (VOC).
References:
Item Code:
attachment: