Maps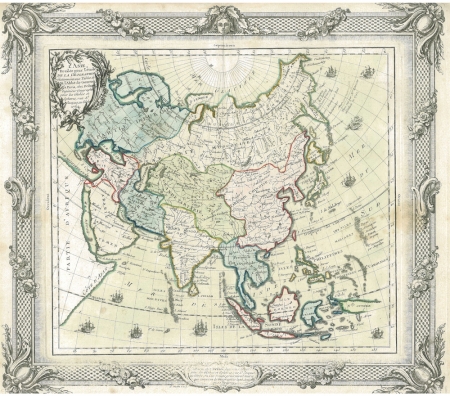 Artist / Author / Cartographer:
Louis Brion de la Tour [fl.1756 - 1803] Louis Charles Desnos [1725 - 1805]
Title:
Asia - L'Asie dresee pour l'etude de la Geographie
Date:
1764
Medium:
copper engraving original colour
Size:
30 x 32.5 cm
Description:
L'Asie dresee pour l'etude de la Geographie relativement aux tables de M. L'Abbe de Gourne a Paris, chez Desnos, Ingenieur Geographe pour les Globes et Spheres, rue St. Jacques au Globe, 1764.
An attractive map of Asia published in Paris in 1764. The map is decorated with nine galleons at sea. The cartouche has an elephant, a stork and an alligator, among foliage and rockwork.
This map was drawn by Louis Brion de la Tour who was working in Paris in the second half of the eighteenth century. It was published by Louis Charles Desnos who was a French mapmaker, globemaker and publisher of Rue St Jacques, Paris. He was appointed globe maker to the King of Denmark but he spent most of his life as a globe maker and map publisher.
References:
Item Code:
MA7750
attachment: