OTHER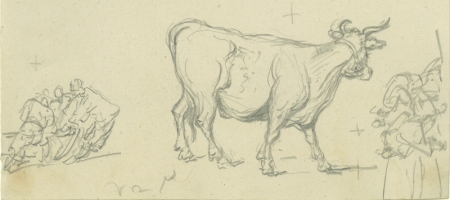 Artist / Author / Cartographer:
Chinnery, George
Title:
Study of a cow
Date:
c1835
Medium:
pencil
Size:
8.5 x 20 cm
Description:
A study of a cow in Macao and two other sketches of people pushing a boat and people pulling a boat.
Each Inscribed with the artist's symbol + for correct.
The British artist George Chinnery spent nearly twenty seven years living in Macau between 1825 - 1852, recording images of the China coast which became a lasting documentary. He spent his early career in England and Ireland, he then spent twenty-three years in India, before moving to China. Despite the changing fashions of nineteenth century England, Chinnery's art retained the feel of the 1790s, when the rising star was Sir Thomas Lawrence. Also the young J.M.W. Turner was his close contemporary at the Royal Academy Schools. Chinnery became one of the the leading artists of British India in the early 1800s, recognised for his artistic style and for his flamboyant personality. To escape his creditor he sailed in 1825 to the China coast, where he received patronage from the wealthy trading community.
References:
Item Code:
78.P5087
attachment: