Prints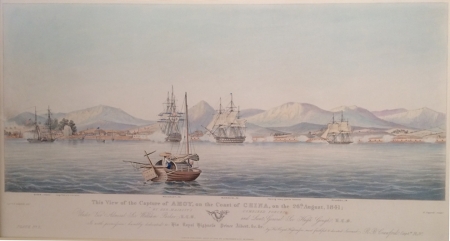 Artist / Author / Cartographer:
Crawford, Lt. R.B., R.N.
Title:
This View of the Capture of Amoy on the Coast of China on the 26th August 1841
Date:
1844
Medium:
aquatint
Size:
31 x 54 cm
Description:
A set of three aquatints exceedingly well drawn and delicately coloured. The full title on each of the prints is :- "This view of the Capture of Amoy, on the 26th August, 1841, by Her Majesty's Combined Forces under Vice-Admiral Sir William Parker, K.C.B., and Lieut. - General Sir Hugh Gough, K.C.B., Inscribed to H.R.H. Prince Albert."
Plate 2

Lieut. R.B. Crawford, Delt. H. Papprill, sculpt.
Published on Sept. 1, 1844 by Ackerman & Co., 96 Strand, London
References
Orange, James The Chater Collection 1924. Section IV - China Wars, Items 14,15 & 16. Illustrated on page 128.
References:
Item Code:
P6384
attachment: