Paintings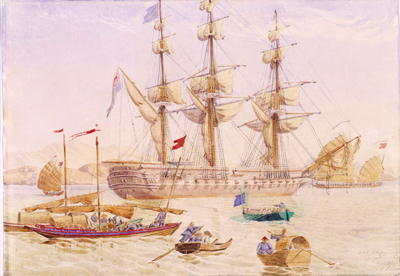 Artist / Author / Cartographer:
Jones, Captain Oliver John
Title:
Hong Kong - H.M.S. Imperieuse at Honkong 1860
Date:
1860
Medium:
watercolor
Size:
35.5 x 50 cms.
Description:
Signed lower right, "HMS Imperieuse at Honkong 1860 O.J.Jones". HMS Imperieuse was a screw frigate which was a naval steam-powered frigate using a screw propeller for locomotion. The ship retained a full sail plan so that it could conserve coal. There were three ships of the British Royal Navy named HMS Imperieuse. The first was in service from 1793 and renamed Unite in 1803. The second was a screw frigate in use from 1852 to 1867. The third was an armoured cruise launched in 1883 and sold 1913.
There are various junks, sampans and rowing boats in the scene with Tsim Sha Tsui and Kowloon in the background. The Imperieuse carried the flag of Rear Admiral Lewis Tobias Jones. Second in Command of the China Station in 1860. The Imperieuse was the flag ship in China and the East Indies in 1860.
This watercolour of the HMS Imperieuse at anchor in Hong Kong Harbour in 1860 was painted by Captain Oliver John Jones R.N. He was the captain of HMS Furious.
References:
Item Code:
P3265
attachment: