Books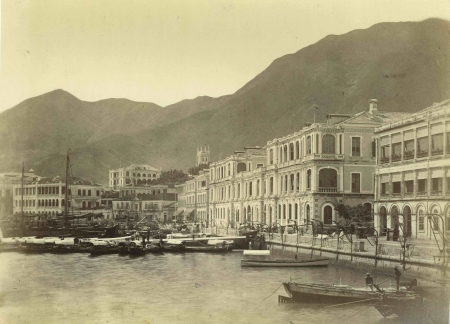 Artist / Author / Cartographer:
The Rev. William R. Beach M.A.
Title:
Visit to Hong Kong of His Royal Highness the Duke of Edinburgh 1869
Date:
1869
Medium:
book
Size:
Description:
Visit to Hong Kong of His Royal Highness the Duke of Edinburgh 1869. Hongkong : London : Printed by Noronha and Sons, Government Printers ; Smith, Elder and Co., 1869.
iv, [2], 59, [1] p., [7] leaves of plates (some folded) : phot., port. ; 31 cm. Work is illustrated with 7 albumen prints, including one two-sheet panorama, by John Thomson.
In 1869, His Royal Highness Prince Alfred, Duke of Edinburgh, sailed to the Far East in HMS Galatea. The Anglican Colonial Chaplain, William Beach, hired Scottish photographer, John Thomson to provide photographs of the visit for a commemorative book, with the profits to go to the Building Fund for the new choir in St. John's Cathedral, Hong Kong.

Thomson wrote: "He was the first English Prince who had roamed so far and wide … and who, according to the Chinese notion, had braved the dangers of the deep in order that he might, for once, feast his vision on the glories of the 'Great Middle Kingdom.'"
"... I well remember his landing. Ships of all nations vied in the splendour of their decorations; long lines of merchant boats guarded the approach to the wharf; and on a thousand native craft ... swarming over the decks or clinging to the rigging of their vessels... . Nor can I forget the regret expressed by some at finding he was only a man and a sailor after all... . A different being, this, surely, from the offspring of their own great Emperor, who is brother of the Sun, and full cousin to the Moon, and on whose radiant countenance no common mortal may look and live."
-- John Thomson, The Straits of Malacca, Indo-China and China (London: S. Low, Marston, Low, & Searle, 1875).
Chater Blog
His Royal Highness, Alfred, Duke of Edinburgh was on a visit to Hong Kong. He arrived in the early hours of Sunday 31 October 1869 commanding the ship Galatea. She anchored off Peddar's Wharf. On this particular day he received on board his ship the Hong Kong clergy. Later, a cricket match was played between the United Services composed of Naval and Military officers, including representatives from the Galatea, and the Hongkong Cricket Club in which Paul Chater was a member. Chater participated with vigor and enthusiasm and although the individual scores are not known, the United Services won by 89 runs something which no doubt pleased everybody. The match lasted two days and all thoughts of business and other commitments were put to the back of the minds of everyone.

Paul Chater was quietly making his way up in colonial society in a charming and self effacing manner that was to become his own unique style.
References:
Item Code:
02.BK2070
attachment: