Maps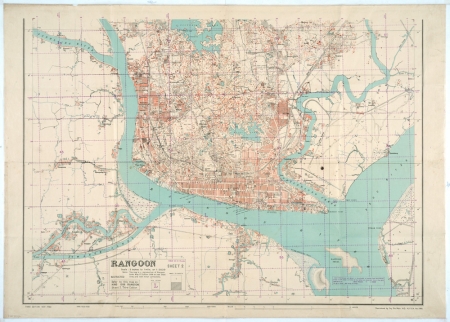 Artist / Author / Cartographer:
Svy. Dte. Main H.Q. ALFSEA
Title:
Rangoon
Date:
November
Medium:
heliozincograph
Size:
56.5 x 79 cm
Description:
Rangoon Sheet 2. Scale 3 inches to 1 mile. Note - This map is a reproduction of Rangoon Guide Map 2nd edition 1944 on new sheet lines, and with minor corrections.
Restricted. Refer to this map as: HIND 1036 RANGOON Sheet 2. Third edition.
Reproduced by Svy. Dte. Main H.Q. ALFSEA Nov.1944.
A large scale city plan of Rangoon. It is a very unusual war time World War 2 plan of the lower, harbour, part of Rangoon.
A scarce survival.
References:
Item Code:
MA7842
attachment: