Maps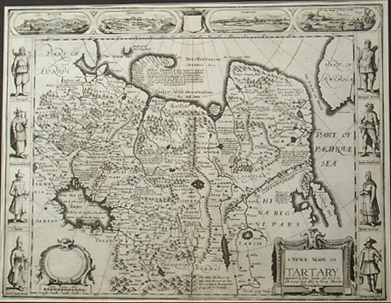 Artist / Author / Cartographer:
SPEED, JOHN
Title:
A Newe Mape of Tartary
Date:
1626(1627)
Medium:
copper engraving
Size:
39 x 50.5 cms.
Description:
In 1627, just before he died, Speed published A Prospect of the Most Famous Parts of the World which became the first World Atlas produced by an Englishman. One of the maps contained in his Prospect was this splendid New Mape of Tartary 1626. It was one of the only carte-a-figures maps available and is therefore one of the most decorative early maps of Tartary. At the top of the page the cities of Astrachan and Samarkand appear. The sides are engraved with figures in exotic national costumes. The map was originally engraved 1n 1626. The bottom right states "Are to be sold in Popshead Alley by G. Humble". This map would therefore come from one of the earliest editions of 1627, 1631 or 1632. A beautiful strong impression of an early silk road map engraved by the Dutch engraver, Dirk Gryp.
The First state of John Speed's carte-a-figure map of Tartary and Central Asia. An early map showing the silk route. Some of the notes are based on Marco Polo.
References:
Item Code:
MA4667
attachment: