Maps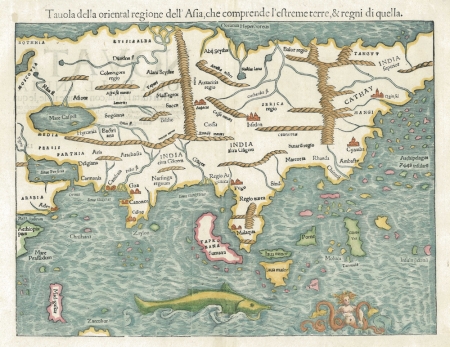 Artist / Author / Cartographer:
Munster, Sebastian
Title:
Asia - Tavola della oriental regione dell' Asia
Date:
c.1540
Medium:
wood engraving later colour
Size:
27 x 33.5 cms.
Description:
Tavola della oriental regione dell' Asia, che comprende l'estreme terre, & regni di quella
One of the earliest available engraved maps of the continent of Asia. An enormous fish appears in the Indian Ocean. A note in South East Asia states, Archipelagus 7448 Insularu.
Italian text edition. This map is from the Italian edition of Cosmografia of 1558 or 1575.
Sebastian Munster (1489 - 1552) was a professor of Hebrew at Basle University and an eminent hebraist, mathematician and geographer. He produced his own edition of Ptolemy's Geographia in 1540, adding a number of significantly new maps to the modern section of the work. There were further editions of the Geographia in 1541, 1542, 1545 and 1552. These were all printed at Basle with Latin text. His two major works the Geographia and the Cosmographia continued to be published by his step-son, Heinrich Petri, long after Muster's death of the plague in 1552. Later editions of Munster's Cosmographia included updated maps.
Reference
PHIMCOS / Peter Geldart Mapping the Philippine Seas. Manila, 2017, Illustrated on page 12
Exhibited at the Metropolitan Museum, Manila in an exhibition entitled, "Mapping the Philippine Seas", March 14th March - 29th April 2017.
References:
Antique Maps Moreland and Bannister Mapping the Continent of Asia #2 Antiques of the Orient Tooley's Dictionary of Mapmakers Revised Edition K - P
Item Code:
MA7545
attachment: