Maps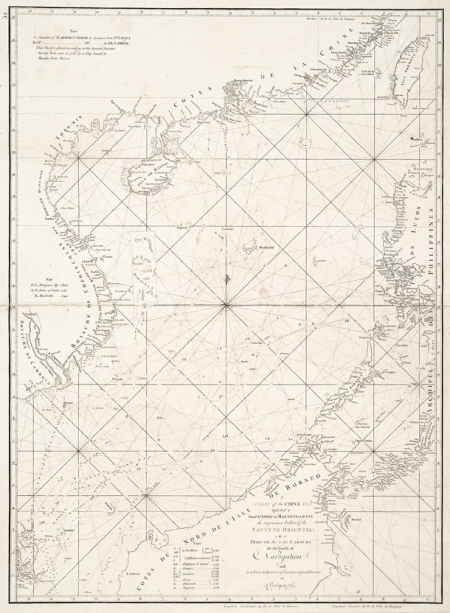 Artist / Author / Cartographer:
Mannevillette, Jean Baptiste N. D. Apres de
Title:
China Sea - Chart of the China Sea
Date:
c.1775
Medium:
copper engraving
Size:
66 x 48.5 cms.
Description:
A Chart of the China Sea inscribed to Monsr. d' Apres de Mannevillette the ingenious author of the Neptune Oriental As a tribute due to his labours for the benefit of Navigation and in acknowledgement of his many signal favours A. Dalrymple
A detailed late eighteenth century French chart of the South China Sea. Tracks of a voyage appear to have been plotted in pencil which indicate that the map was used.
The title is in English and pays tribute to both Jean Baptiste d' Apres de Mannevillette and Alexander Dalrymple. This particular chart was originally published by Dalrymple, revealing that both of these French and English hydrographers shared information. Notes from various ships are shown on the map. Sea Horse 1752, Cuddalore Schooner 1759, 1761, Elephant & Camel 1759, Ganges 1759, London 1762, 1763, 1765, Essex 1762, Falmouth 1762 and Neptune 1763.

Born in Le Havre of a seafaring family d'Apres de Mannevillette had a long and distinguished career as a navigator and one of the first French hydrographers. After studying mathematics in Paris, he gained early experience of the sea in a voyage at the age of nineteen to the Caribbean. During many subsequent voyages he assembled a collection of material for a projected hydrographic atlas which, with the support of the Academie des Sciences, was published in Paris in 1745 under the title Le Neptune Oriental. In spite of the popularity of the first issue, it failed to satisfy the author and he spent nearly thirty years, often with the assistance of his friend, Alexander Dalrymple, the English hydrographer, in the preparation of a revised and enlarged edition which eventually was issued in 1775.
Alexander Dalrymple [1737 - 1808] was a hydrographer who worked for the East India Company from 1752 - 1771. He became first hydrographer to the East India Company in 1779. He was appointed director of the newly founded Hydrographical Office in 1795.
References:
Item Code:
MA5520
attachment: