Maps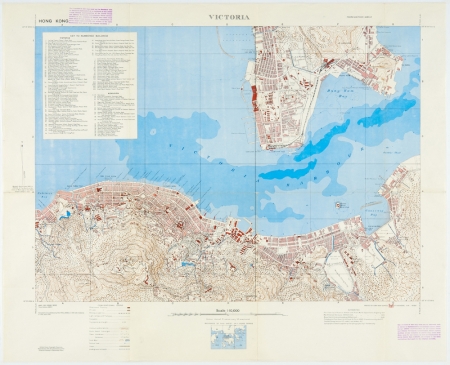 Artist / Author / Cartographer:
Army Map Service, Corps of Engineers
Title:
HongKong - Victoria
Date:
1945
Medium:
heliozincograph
Size:
49.5 x 69.5 cm
Description:
Printed by Army Map Service, Corps of Engineers. 2 - 54, 141024. AMS L901 (GSGS 3890) Third Edition- AMS 3. Scale 1:10,000
Compiled and published by War Office, GSGS, in 1930 with revisions in 1931 and 1945. Indexes at the bottom of the page show the Conventional Signs and Authorities.
British Crown Copyright Reserved. Reproduced with the permission of Her Britannic Majesty's Stationary Office.
A printed note in red ink has been added by hand at the top left and bottom right of the map which reads, " The contents of this map must not be discussed with or shown to representatives or nationals of any power except official representatives of the United States and Chinese Nationalist Governments. Direct repro-ductions or any complete or partial copy made from these maps by any means, as well as compilations at scales larger than 1 :250,000, are subject to the same restrictions that apply to the original material."
A scarce American Army city plan of Victoria, Hong Kong published in 1945.
References:
Item Code:
MA6809
attachment: