Maps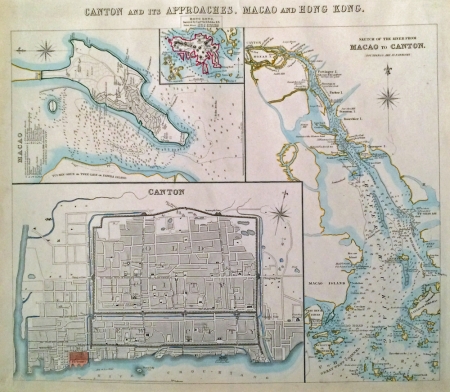 Artist / Author / Cartographer:
Society for the Diffusion of Useful Knowledge
Title:
Canton and its approaches, Macao and Hong Kong
Date:
c1857
Medium:
steel engraving, original colour
Size:
32 x 38 cm
Description:
Canton and its Approaches, Macao and Hong Kong. Published in London in the 1850s.
A map showing the Pearl River Delta area in the mid-nineteenth century. Insets to the left of the page show Canton, Macao and Hong Kong. To the right of the page is Sketch of the River from Macao to Canton (Soundings are in fathoms). Each map has a compass rose indicating north. Both Canton and Macao are fairly detailed and show major landmarks and streets. Hong Kong surveyed by Capt. Sir E. Belcher, Point Albert - 22o,16', 27" North Latitude, 114o, 10', 18" East Longitude is the title above the a map of the island shown in a small box at the top of the page. Point Albert would later become Wellington Battery, then Tamar.
References:
Item Code:
MA7527
attachment: