Maps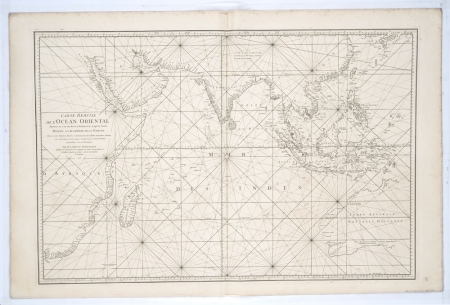 Artist / Author / Cartographer:
Mannevillette, Jean Baptiste N. D. Apres de
Title:
Carte reduite de l'Ocean Oriental
Date:
1753
Medium:
copper engraving
Size:
56.2 x 84.2 cm
Description:
Carte réduite de l'Océan Oriental depuis le Cap de Bonne Espérance jusqu'au Japon. A mid 18th century French hydrographic chart of the Indian Ocean from South Africa across to Australia and East Asia up to Japan made by the French cartographer, Jean-Baptiste d'Après de Mannevillette (1707-1780).
Born in Le Havre of a seafaring family d'Apres de Mannevillette had a long and distinguished career as a navigator and one of the first French hydrographers. After studying mathematics in Paris, he gained early experience of the sea in a voyage at the age of nineteen to the Caribbean. During many subsequent voyages he assembled a collection of material for a projected hydrographic atlas which, with the support of the Academie des Sciences, was published in Paris in 1745 under the title Le Neptune Oriental. In spite of the popularity of the first issue, it failed to satisfy the author and he spent nearly thirty years, often with the assistance of his friend, Alexander Dalrymple, the English hydrographer, in the preparation of a revised and enlarged edition which eventually was issued in 1775.
References:
Item Code:
MA7558
attachment: