Maps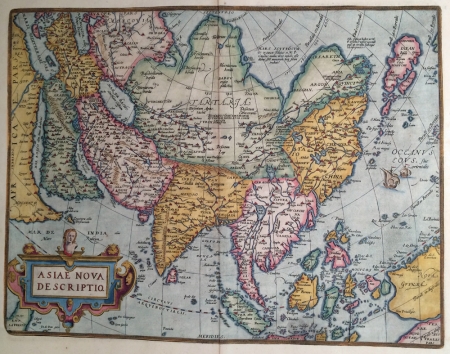 Artist / Author / Cartographer:
ORTELIUS, ABRAHAM
Title:
Asia - Asiae Nova Descriptio
Date:
c.1570
Medium:
copper engraving, later colour
Size:
37.5 x 49 cms
Description:
Ortelius' Asiae Nova Descriptio was the standard map of Asia for more than forty years. The map is drawn on a condiform (or heart-shaped) projection, but Asia has been extended too far to the east. The error was Photolemy's: he had greatly exaggerated the longitude of Eurasia, which was one of the reasons why Columbus and Cabot were convinced they had reached the eastern shores of Asia . Unlike the Majority of the maps appearing in the Theatrum, which were executed by other cartographers, the Asiae Nova Descriptio was actually compiled by Ortelius himself. He had previously prepared a wall map of Asia which appeared in1567. The latter was based on Gastaldi's famous tripartite map of Asia which was published between 1559 and 1561. For the new version, Ortelius also reffered to Mercator's 1569 world map, but the most accurate regions of the map are those derived from Portuguese sources, in particular the portolan charts of Goa-based Fernao Vaz Dourado (c.1520-1580). From: Theatrum Orbis Terrarum ( Atlas of the Whole World); published by Chrisopher Plantin of Antwerp; engraved by Francis Hogenberg.
Abraham Ortel (Ortelius) (1527-1598) came from an old Antwerp family. His father died when he was twelve and Abraham and his two sisters took up map colouring to help support the family while their mother sold antiques. In 1547 he was admitted to the artist's Guild of St Luke as 'an illuminator of maps'. Ortelius, as he now styled himself, also dealt in books, especially geographical works, maps, coins and antiques. He travelled widely in Europe and visited Italy at least four times. The Theatrum Orbis Terrarum was Ortelius' greatest work and the first modern atlas; nothing quite like it had been attempted before. Most notably it was the first time that geographical materials had been collated and reproduced in a systematic manner. Ortelius had all the maps in his collection re-engraved in a standard size and format: many sixteenth century maps, which otherwise would have been lost, have been preserved by virtue of their inclusion in the Theatrum. Furthermore, his list of contributors includes not only the authors of the original maps, but also other cartographers and geographers, and in this respect provides an invaluable contemporary record for historians of geography.
Verso Latin text with number 3 at bottom of the page.
References:
van den Broecke, Marcel P.R. van den Ortelius Atlas Maps 1996
References:
Item Code:
MA7507
attachment: