Maps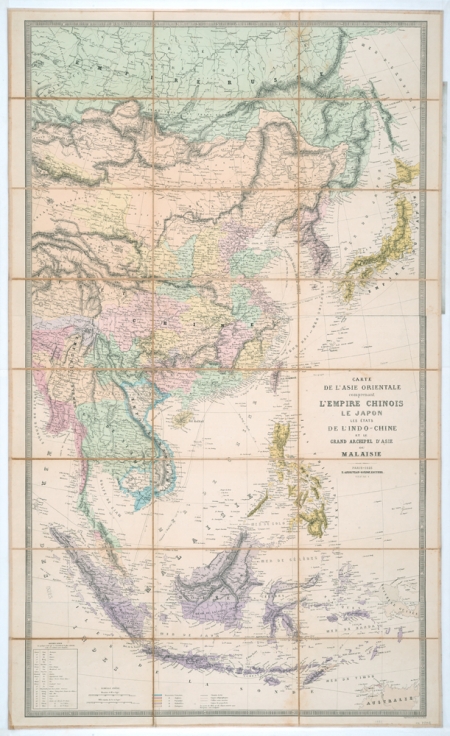 Artist / Author / Cartographer:
Andriveau-Goujon, Eugene
Title:
East Asia - Carte de L'Asie Orientale comprenent ...
Date:
1885
Medium:
steel engraving, original colour
Size:
42.5 x 62 cm
Description:
East Asia - Carte de L'Asie Orientale comprenent L'Empire Chinois, Le Japon, Les Etats de L'Indo-Chine, et le Grand Archipel D'Asie ou Malaisie. Paris-1885. E. Andriveau-Goujon, Editeur, Rue du Bac, 4.
Imp. Erhard, 8 Rue Nicole, Paris. Scale 1 : 8,000,000.
An attractive and detailed 24-section canvas backed folding map of East Asia. Showing early French colonial possessions in IndoChina highlighted in blue. The possessions of England, Spain, Holland and Portugal are also highlighted in different colours. The map spans from the northern tip of Australia across to Sumatra and the Indian Ocean up to Okhotsk in Siberia and Central Asia. Hong Kong and Macau appear on the map on the South China Coast. In Japan Yedo(Tokyo) and Miako(Kyoto) are depicted.
Eugene Andriveau-Goujon was a geographer and he was the editor of this map. He was working at 4, Rue de Bac, Paris. The family firm Andriveau-Goujon were established mapsellers and publishers of Paris. They operated from three different addresses on the Rue de Bac starting at number 6 in 1805, then 21 and finally 4..
References:
Item Code:
MA7305
attachment: