Maps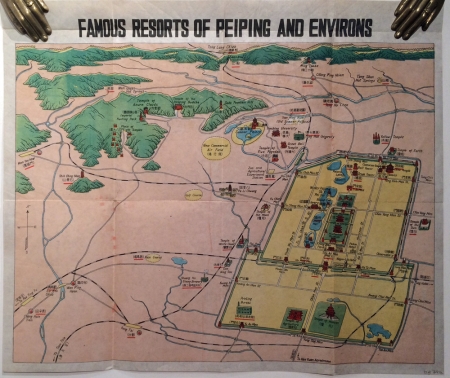 Artist / Author / Cartographer:
Science Press, Peiping
Title:
Peking - Famous Resorts of Peiping and Environs
Date:
c1938
Medium:
lithograph, printed in colour
Size:
36.5 x 45 cm
Description:
A plan of Peiping (Beijing) showing the walled city and major buildings appears to the lower right of the map. The environs show mountains, rivers, roads, railways and railway stations. Many major landmarks and destinations are shown including, temples, Summer Palace, Great Wall, Ming Tombs, Imperial Hunting Park, New Commercial Airfield, Golf Course and Race Course. This map was probably published in Peking as a guide to tourists. Both Chinese and English characters appear on the map.
Maps of Peiping and its Environs in full colors. Published by Science Press, outside Ho Ping Men, Peiping. Distributed by Lynns Book Store, 128, Morrison St,. Peiping.
References:
Item Code:
MA7812
attachment: