Maps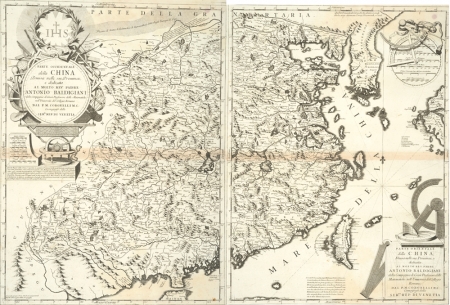 Artist / Author / Cartographer:
Coronelli, Vincenzo
Title:
An important set of China and 15 Provinces
Date:
c1696
Medium:
copper engravings
Size:
each 60 x 45 cm
Description:
China - Parte Occidentale della China divisa nelle sue Provincie; Parte Orientale della China, divisa nelle sue provincie. Duisa rella sue Prouincie e dedicata AL MOLTO REV PADRE ANTONIO BALDIGIANI della Compagnia di Gesu Professore della Matematiche nell' Universita del Collegio Romano Dal P.M. Coronelli M.C. Cosmografo della SER. MA. REP. DI VENETIA.
A magnificent set of China and 15 Provinces engraved and printed on 9 folio sheets in Venice c.1696. The two-sheet map of China and seven sheets with 15 Chinese Provinces were published in the late seventeenth century in Venice by Father Vincenzo Coronelli. There is a dedication to the Jesuit father Antonio Baldigiani in the catouches on each sheet of the map. Also shown, off the East Coast of China, is Ilha Formosa (Taiwan) and to the north, Corea (Korea). The Great Wall is depicted in the north. The city of Peking is called Xuntien. The city Xanghei (Shanghai) appears. In the south both Macao and Quangcheu are shown. Mountains, rivers and lakes are depicted on the map.
Quantung e Fokien
Nanking et Honan
Hunouang e Sucuhen
Iunan, Qveichev, Qvangsi
Xansi e Xensi
Chekiang e Kiangsi
Xantung e Peking
Father Vincenzo Coronelli (1650-1718) was a remarkable man. He was an encyclopaedist, geographer, inventor and Doctor of Theology. He was a citizen of the most Serene Republic of Venice and was also one of the most prominent mapmakers and publishers in the Europe of his day. He is credited with having drawn and engraved over 500 maps. His lasting fame rests on a pair of gigantic globes, which were constructed for Louis X1V of France in 1683. Measuring some 15 feet in diameter, they were the largest globes the world had known; the King had special spectacles made for reading them. On the strength of this resounding international success, Coronelli was appointed Cosmographer to the Most Serene Republic in 1685. He also taught geography at the University of Venice. Some years previously he had entered the Franciscan Order of the Conventual Friars Minor, and the convent of Santa Maria Gloriosa dei Frari de Venice became his cartographic workshop. Coronelli was elected General of the Minorite Order in 1701 and founded the Academia Cosmografica degli Argonauti, the first geographical society in the world. He also found time to devise a system of sea defences for the Venice Lido, design dredging machines and invent a new method of salt extraction and purification.
Sothebys November 2016
A famous and important two-sheet map of China, the best delineation of that country to date. The map is dedicated to Antonio Baldigiani (1647-1711), a Jesuit, and Professor of Mathematics at the Roman College, and from 1691 consultor to the Congregation of the Index, the church body responsible for examining books condemned by the Inquisition and reporting their findings to the Pope, and in case of minor errors, providing editing advice to allow publication. As such, he was an important, conciliatory, figure in the confrontation between Catholic doctrines and the new science propounded by Galileo and others. Baldigiani, as with many fellow Jesuits, was greatly interested in China, and was an obvious choice as a dedicatee for this map. European contact with and knowledge of China to date was largely dependent on the work of successive generations of Jesuits.
One of the most decorative large scale early maps of China by an outstanding mapmaker.
References:
Item Code:
MA7833
attachment: