Maps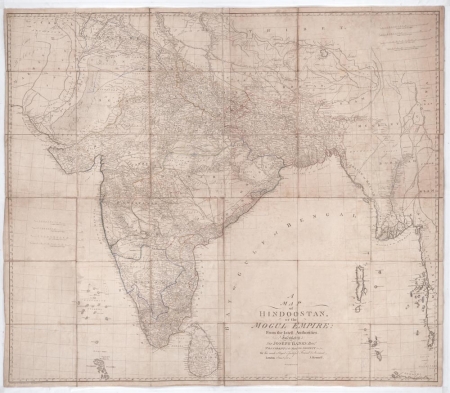 Artist / Author / Cartographer:
Rennell, James
Title:
India - A map of Hindoostan or the Mogul Empire
Date:
1788
Medium:
copper engraving
Size:
102 x 120 cm
Description:
A Map of Hindoostan or the Mogul Empire inscribed to Sir Joseph Banks..."
A revised and enlarged version of Rennell's first Hindoostan , published in 1782.
Mounted on linen, it was a working Map. It folds into a card-board case , covered in linen and then in marbled paper.
Rennell was appointed Surveyor-General of the East India Company's territories in Bengal in 1764. During the course of his survey he travelled in Bhutanese territory and was the first person to determine correctly the course of the Tsangpo river into the Brahmaputra.
References:
Item Code:
MA7835
attachment: