Maps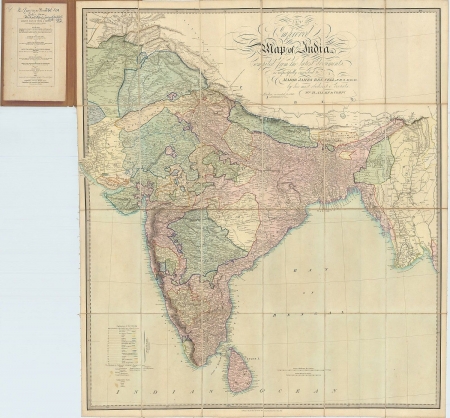 Artist / Author / Cartographer:
Allen, William H. & Co.
Title:
India
Date:
1842
Medium:
Steel engraving, original hand colour
Size:
97 x 84 cm
Description:
An Improved Map of India, Compiled from the latest documents, is respectively inscribed to Major James Rennell, F.R.S. &c. &c. &c. &c. by his most obedient Servants, Wm. Allen & Comp[an]y, 1842.

London: Wm. H. Allen & Co., Booksellers to the Honourable East India Company, June, 1842.
Beautiful map of India. Steel engraving with original hand-colour; engraved by J. & C. Walker, dissected into 24 sections and laid onto linen, folding between original brown covers stamped in blind and gilt, publisher's advertisement to inner cover.
Presentation inscription of Reverend Richard Grosvenor Bartelot to his son on inside front cover.
References:
Item Code:
MA8226
attachment: