Paintings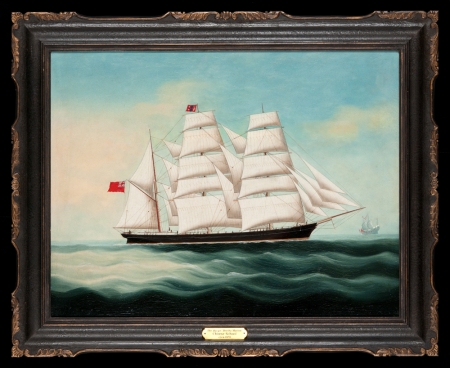 Artist / Author / Cartographer:
Chinese Artist
Title:
The Barque Bertha Marion in Full Sail
Date:
c1870
Medium:
oil on canvas board
Size:
42.5 x 57 cms.
Description:
The 540 ton barque Bertha Marion was built under Special Survey by Moore in Sunderland in 1864. Ordered by Alexander Coghill and Co. of Liverpool she measured 143.5 feet in length, 28.7 feet in b readth, with a depth of 18.5 feet. On her maiden voyage she departed Sunderland on 8th March 1864 and arrived in Arica, Chile on 8th July under Captain Kite. Regular passages to South America continued for the rest of the 1860s until her route was switched to the Far East in 1870.
During the next decade she sailed to China, Japan, Europe and both North and South America. Sold in late 1879 to Trinder Anderson and Co. of London and renamed Arafura she sailed even further afield to Australia. Her final overseas voyage left Shark Bay, Western Australia on 26th March 1890 under Captain Gaze and arrived back in London on 10th August where she was retired.
The ship was named after Bertha Marion Coghill born 1863, the daughter of the ship owner Harry Coghill.
The Figurehead of the Bertha Marion is presently on display on the Cutty Sark at the National Maritime Museum in London. A three-quarter-length female figure wearing a belted overdress. She holds a rose in her right hand. Her left hand is by her side.
Reference
The National Maritime Museum, Greenwich, London.
References:
Item Code:
P5000
attachment: