Paintings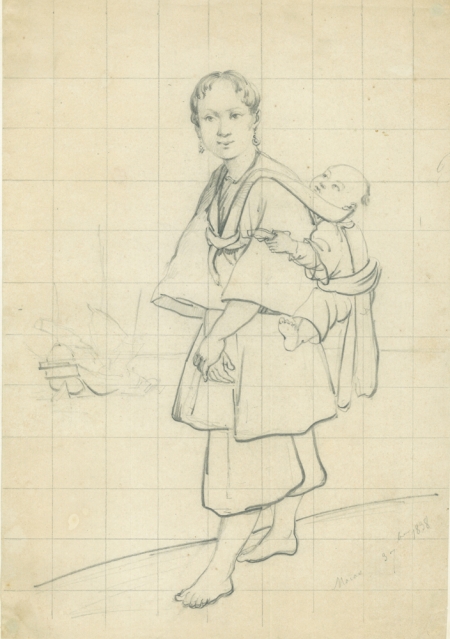 Artist / Author / Cartographer:
Borget, Auguste
Title:
Macao, A young Chinese woman carrying a baby on her back
Date:
1838
Medium:
pencil on paper
Size:
34 x 23.7 cm
Description:
Inscribed lower right, "Macao 3 7 1838".
A charming study of a young Chinese woman carrying a baby on her back by the shore in Macao. In the distance is a junk. The drawing was done by Auguste Borget in Macao on 3rd July 1838.
The drawing has been squared off for possibly enlarging or in preparation for a painting.
The French artist Auguste Borget was born in Issoudun in France on 28th August 1808. He studied painting in Paris and became one of the most widely travelled artists of his time. In 1836 at the age of 28 he embarked on a voyage around the world. He visited New York and then he continued his journey to South America where he painted many views of towns, people and the countryside. A number of these were published as lithographs to illustrate his book, Fragments d'un voyage autour du monde in 1845. He spent 1838 and 1839 living in Macau and on the China Coast. He painted some of the earliest views of Hong Kong.
Provenance
Acquired at auction in Paris. By descent from the Borget family.
References:
Hutcheon, Robin Souvenirs of Auguste Borget 1979

Auguste Borget peintre - voyageur autour du monde 1999 Exposition, Musee de L'Hospice Saint -Roch, Issoudun.
References:
Item Code:
42.P5216
attachment: