Paintings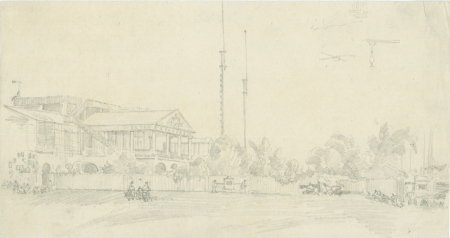 Artist / Author / Cartographer:
Borget, Auguste
Title:
Canton, the Compound before the Foreign Factories
Date:
c.1838
Medium:
pencil on paper
Size:
18 x 34 cm
Description:
A well executed drawing of the compound before the Foreign Factories at Canton. In the distance is the portico and balcony of the British factory with its fenced gardens containing many trees. Two flag poles of the British and Dutch Factories appear without flags in the middle of the drawing. To the right of the drawing junks and sampans appear moored by the river bank.
The additional storey that was added to the eastern block of the British factory in the late 1830s is clearly visible along with a weather vane. An external staircase is also visible from the upper story down the side of the portico.
The French artist Auguste Borget was born in Issoudun in France on 28th August 1808.. He studied painting in Paris and became one of the most widely travelled artists of his time.

In 1836 at the age of 28 he embarked on a voyage around the world. He visited New York and then he continued his journey to South America where he painted many views of towns, people and the countryside. A number of these were published as lithographs to illustrate his book, Fragments d'un voyage autour du monde in 1845.

He spent 1838 and 1839 living in Macau and on the China Coast. He painted some of the earliest views of Hong Kong which were later published as lithographs in 1842 in Sketches of China and the Chinese. There were other views of Macau, Canton and the Pearl River featured in the same book.
Provenance
Acquired at auction in Paris. By descent from the Borget family.
References:

Auguste Borget peintre - voyageur autour du monde 1999 Exposition, Musee de L'Hospice Saint -Roch, Issoudun.
Conner Patrick The Hongs of Canton 2009
References:
Item Code:
43.P5219
attachment: