Paintings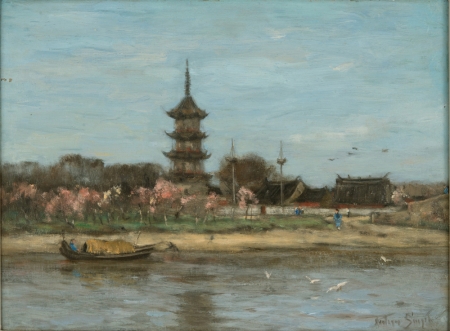 Artist / Author / Cartographer:
Smyth, Montague
Title:
The Longhua Pagoda, Shanghai
Date:
c.1905
Medium:
oil on board
Size:
30 x 40 cm
Description:
The Longhua Pagoda, lies about a half hour walk (c.2km) south of the old French Concession in Shanghai. It is the largest and oldest temple complex in Shanghai dating back as a foundation to the 3rd century CE and is a Ch'an (or Zen) foundation. However nothing seems to have survived from that time and the pagoda - although very heavily restored in the Qing - is a Song period edifice (977CE).

The temple was famous for its peach blossoms and the viewing of them in the temple gardens was one of those annual outings on everyone's calendar in the surrounding countryside and towns.

FOOTNOTES
Exhibited
Martyn Gregory, China and the East Indies, catalogue 55, no.112
The British artist William Montague Smyth was a painter of atmospheric landscapes, born and based in London, who spent several childhood years with his mother in New Zealand, returning to live with his grandmother. He was educated at Leamington College and Cambridge University, abandoned the idea of an Army career, then studied art alone on the continent. His only lessons were from Fred Brown at Westminster School of Art and in Italy. Smyth had early success, in 1894 joining the RBA and showing at R.A; having a solo show at Dowdswell Galleries in 1899; in 1894 joining the ROI. He became its president, also of the London Sketch Club of which he was a founder member in 1898.
In 1905 Smyth travelled through China and Japan, resulting in pictures that illustrated books on the countries and forming the basis of a solo exhibition at Baillie Gallery, 1906. In 1914 Smyth falsified his age and served with the Artists' Rifles. Supported by a small private income Smyth, a keen sportsman, continued active as an artist until he died. His last one-man exhibition was at The Fine Art Society in 1921. Belgrave Gallery organised a touring show in 1978.
References
David Buckman, Artists in Britain since 1945, Goldmark Gallery, n.d., pp.139-145
References:
Item Code:
P5926
attachment: