Paintings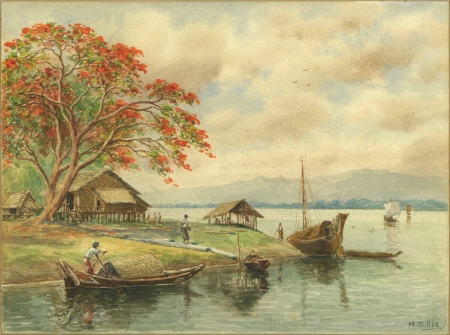 Artist / Author / Cartographer:
Hla, M.T.
Title:
Burmese village on the Irrawaddy
Date:
c1920
Medium:
watercolour
Size:
15.8 x 21 cm
Description:
A charming view of a village on the banks of Irrawaddy River. Although painted by a distinguished Burmese artist this watercolour is very much in the Western-style.
M.T. Hla became one of the foremost painters in the Western-style in Burma during the 1910s and 1920s, with his paintings decorating Rangoon's best hotels and his postcard paintings selling there.
The Burmese artist M.T. Hla (U Tun Hla), was a watercolor and oil painter who painted in the Western style. M.T. Hla was the signature he used for signing his paintings, which was apparently derived from the initials in the name Maung Tun Hla.
In the early 1900s, M.T. Hla encountered the British artist Sir Gerald Kelly (1879–1972) who travelled to Burma to paint its scenes and who later established his reputation in England largely through his landscapes of Burma and portraits of Burmese dancers and ladies. Gerald Kelly subsequently became a painter of note in Britain, becoming Official Portrait Artist to the King and Queen during World War II and becoming President of the Royal Academy of Art from the 1949 to 1954. According to the Bumese art scholar Min Naing, M.T. Hla received training of some kind from Gerald Kelly while Kelly was in Burma.
References:
Item Code:
P5689
attachment: