Prints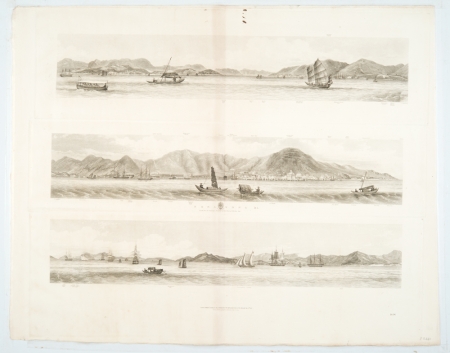 Artist / Author / Cartographer:
Heath, Lieutenant Leopold G.
Title:
Hong Kong as seen from the Anchorage. Panorama triptych
Date:
1846
Medium:
copper engravings
Size:
Each approx. 13 x 70.5 cm
Description:
HONG KONG AS SEEN FROM THE ANCHORAGE.
HYDROGRAPHIC OFFICE OF THE ADMIRALTY, MAY 4TH 1847 (BUT LATER), 3 ENGRAVED VIEWS ON ONE DOUBLE-PAGE SHEET.
THE IMAGE OF EACH APPROX. 130 X 705MM., THE SHEET 560 X 705MM.

The earliest Admiralty survey of Hong Kong harbour was carried out in 1841; this set of three panoramas was commissioned as a companion, drawn by Lieutenant (later Admiral) Leopold Heath in 1846 and published in 1847. Taken from a vantage point aboard HMS Iris anchored centrally in the harbour they combine to form an overlapping 360-degree panorama of the harbour, one of the very earliest (and among the most important) delineations of the town and harbour.
Exceptionally rare to find the three engravings on one double-page sheet of paper. The prints are in fine condition.
References:
Item Code:
P5443
attachment: