Prints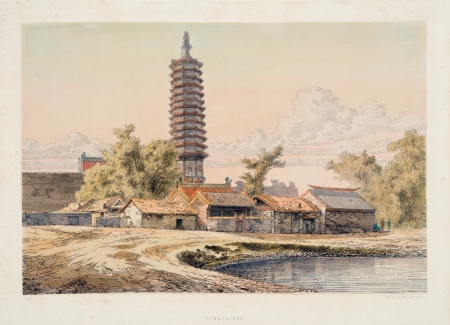 Artist / Author / Cartographer:
W.Korn & Co.
Title:
Tungtschau
Date:
1861
Medium:
photolithograph
Size:
30 x 44.5 cm
Description:
Early view of Tungschau and the Pagoda in 1861. Plate no. 38. The photolithograph was published in Berlin in 1864 to illustrate a Prussian expedition to China Japan and Siam 1859-1862.
The Eulenburg Expedition was a diplomatic mission conducted by Friedrich Albrecht zu Eulenburg on behalf of Prussia and the German Customs Union in 1859-62. Its aim was to establish diplomatic and commercial relations with China, Japan and Siam.
In May 1861, the Eulenburg expedition arrived in Tianjin, where Count Eulenburg initiated negotiations with the Zongli Yamen for a commercial treaty with the Qing Empire. This was not at a very good time for China, since Britain and France had just invaded Beijing in the Second Opium War and the Xianfeng Emperor was still exiled in Chengde. The negotiations took three months and the Emperor died in late August. Finally on 2 September 1861, Count Eulenburg and Qing representative Chonglun signed a commercial treaty with the Qing Empire, which was modeled on the French Treaty of Tianjin. In the treaty, Prussia represented the whole German Customs Union and the treaty would govern Sino-German relations until World War I, when the treaty was repudiated by China.
The two artists on the expedition were Wilhelm Heine and Albert Berg
Scarce
Reference
Decker, R. V. Die Preussiche Expedition nach Ost-Asian aus Japan, China and Siam 1864.
References:
Item Code:
P5680
attachment: