Prints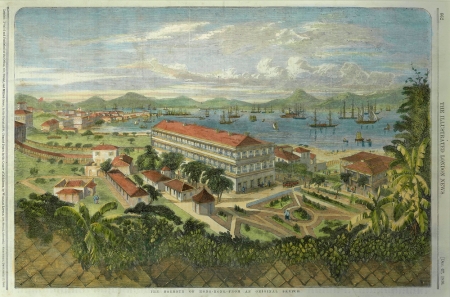 Artist / Author / Cartographer:
Leitch, Richard Principal
Title:
The Harbour of Hong Kong from an original sketch
Date:
Dec 27
Medium:
wood engraving, later colour
Size:
23.5 x 34.5 cm
Description:
This engraving was published in The Illustrated London News on December 27th 1856. It was engraved in reverse on wood and printed in London after a drawing done in Hong Kong by the artist correspondent Richard Leitch. The drawing was done only 15 years after building had started in the colony of Hong Kong in 1841.
A view from Flagstaff House looking west towards Murray Barracks with Central and the harbour beyond. There are already many ships in the harbour.
References:
Item Code:
P6382
attachment: