Maps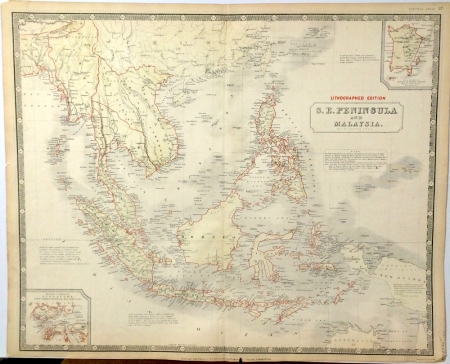 Artist / Author / Cartographer:
Alexander Keith Johnston, FRGS[1804-1871]
Title:
South East Asia and Singapore - S.E. Peninsula and Malaysia
Date:
1849
Medium:
lithograph, with original color
Size:
50 x 61 cms.
Description:
S.E. Peninsula and Malaysia by A.K.Johnston F.R.G.S. Lithographed edition
An attractive map of South East Asia published as a lithograph in Scotland in 1849 with original hand colour. Inset details bottom left, "Island and Strait of Singapore, Properly Singhapura, City of the Lion: from Singha a lion." and bottom right, "Pulo Penang or Prince of Wales Island, Areca I. of the Natives".
A number of interesting notes such as "In 1819 Sir S.Raffles established the first British Colony at Singapore & the sovereignty of the Island & Straits was confirmed to Britain in 1824. The territories comprise a circumference of about 100 miles, including the Seas and Straits within 10 miles of the Island. In the 12th century Singhapura (Liontown) capital of a Malay State, occupied the site of the present Settlement. Population in 1819 150, in 1841 it was understood to amount to 36,000." A further note describes, "In 1786 the Island of Penang was transferred to the East India Company; in 1830 the governments of Penang, Malacca and Singapore were made subordinate to that of Bengal."
The Scottish family firm of W. & A.K. Johnston was established in Edinburgh by Sir William Johnston who was Lord Provost of Edinburgh from 1844 - 1851. Together with his brother Alexander Keith Johnston FRGS they established the business in 1826 at 160 High Street, with an extensive and varied cartographic output, especially thematic maps and globes.
An unusual early lithographed version of this map, coloured in yellow with red outline.
References:
Tooley's Dictionary of Mapmakers, Revised Edition E - J 2001
Item Code:
MA6992
attachment: