Maps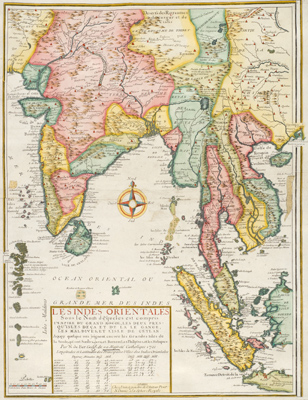 Artist / Author / Cartographer:
Fer, Nicolas de
Title:
South East Asia - Les Indes Orientales
Date:
1721
Medium:
copper engraving, later colour
Size:
61 x 46.5 cms
Description:
Les Indes Orientales sous le Nom de queles est compris L'Empire du Grand Mogol, Les Deux Presqu'Isles Deca et de la Le Gange, Les Maldives, et L'Isle de Ceylan . . .
An attractive map of South East Asia published in Paris in the first quarter of the eighteenth century.
The French mapmaker Nicolas de Fer [1646-1720] was the son of the Paris mapseller, engraver and colourist Antoine de Fer (fl. 1644 - 1673). He was apprentice to the engraver Louis Spirinx from 1659. In 1687 he took over the family business and developed it into one of the leading French map publishers.
References:
Tooley's Dictionary of Mapmakers E - J 2001
Item Code:
MA6360
attachment: